The Netherlands needs new business models in energy transition
January 20, 2016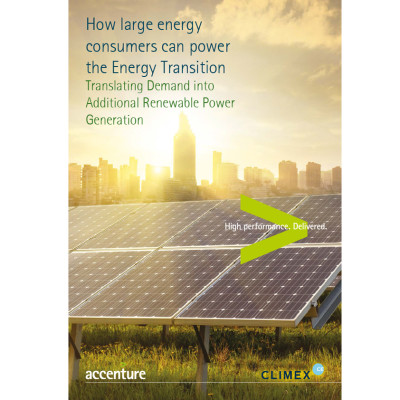 Although the Netherlands has not been a leader within Europe in increasing the sustainability of its energy landscape, a joint study by Climex and Accenture has shown that our large-scale energy consumers are among the most sustainable in Europe.
The report of this study, "How large energy consumers can power the Energy Transition" is now available.
New role for the consumer
Today's energy consumers are increasingly concerned with where the electricity they buy comes from. They want to know that their electricity is coming from Dutch renewable energy projects, and they hope that their choice is helping more new green energy projects get off the ground. However, this ideal has proven difficult to achieve in practice.
The most significant obstacle is that the current supply of Dutch sustainably generated energy is simply not enough to meet the demand. Secondly, much of the existing supply is not freely available on the market. Thirdly, the system of GOs (Guarantees of Origin) is not being applied consistently enough to make that market transparent and effective. As a result, the premium for sustainability is not succeeding in stimulating additional growth.
We see opportunities for developing completely new business models by involving the large-scale consumers in the Netherlands in the development of sustainable generation facilities like wind farms.
Energy dialogue
With this report we hope to make a significant contribution to the energy dialogue that Dutch Minister Henk Kamp (Economic Affairs) intends to initiate among industry parties, civil society organisations and other stakeholders in society. Minister Kamp stressed the necessity of making the transition to a more sustainable energy mix in his long-awaited Energy Report this week. While not going as far as to define concrete measures to get there, he did call upon all of us to participate in the energy dialogue. Kamp hopes to take the ideas emerging from this dialogue and develop them into a policy agenda with concrete proposals to lead towards a minimal CO2 energy supply in 2050.